Dear friends,
Welcome to my website and gallery.

I have been seriously involved with Glass Art since about 2000-2003.
I studied Printmaking and Glass Design between 1984-1987, in California, but never actually worked as an artist. Nevertheless, my studies had been a great inspiration for my work as a The City librarian of Herzeliya.

Only after I had retired [with the purpose of being a full time Glass Artist]
- I really began my long voyage with Art.

I consider my creative ability a divine gift, for which I am continuously grateful.
My art is my best means of communicating. I enjoy talking to myself, the glass and other people thru my artistic creativity, rather than using words.



Transparent yet existing,

Colorful - yet transparent,

Rigid - yet fragile

Hard, yet at times soft and liquid...



The very choice of GLASS, as a medium is in itself an Artistic Statement.

Dealing with glass means to me first of all
Dealing with TRANSPARENCIES,
Dealing with COLORS, dealing with overlaying of colors one on top of the other, maintaining the colors and creating new ones at the same time – and still, seeing thru them all.
With Glass I am dealing with a SELF SUPPORTING MEDIUM – as opposed to prints and papers which are my alternative art and need framing etc..
It really IS exciting to me to see thru a body, perhaps a thick body, and yet see whatever is behind it. After all, it IS a unique miracle...
Rather than using words, communicating thru color, form, line, stain – conveys better my moods, and emotions. It is easier for me to converse like that, and, to be understood like that. Without words. Words can be so limiting sometimes.

The bright colors would play a great role in my art, by that answering for pain, ugliness, chaos, suffering which is around me [-and you, and everybody else]
As I always say – colors are the symphony of the eye.




C O L O R I S M Y M I D D L E N A M E ©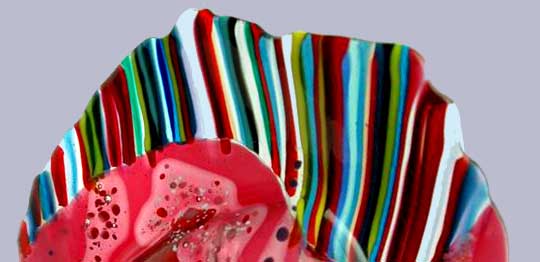 'My family home' a programme [in Hebrew]
in which Havi talks about her family history.
Broadcast in Israeli radio - KOL ISRAEL – THE VOICE OF ISRAEL,
March 2012.






Member:


IAPMA – International Association of Paper Artists


GAS - Glass Art Society


CGS - Contemporary Glass Society


Education

2011 Portland Oregon, BECON [Glass conference, by Bullseye Glass Comp.
2011 Portland Oregon – Steve Klein -
2011 Portland Oregon – Alex Hirsh -
2010 Silkeborg, Danmark – Helen Stokes, The Honeycomb mould
2009 Tel Aviv, Steve Klein – workshop in Israel, at Gil Raphal's
2009 Northlands Creative Glass, Scotland – Udo Zembok
2008 The Glass Furnace, Istanbul / Turkey, Emma Varga
2007 Glassforum, Norway Roger Thomas
2006 Glassforum, Norway Miriam Di Fiore
2005 Northlands School of Creative Glass Peter Aldridge
2004 Northlands School of Creative Glass (Lybster, Scotland) Glass Casting / Richard Whiteley
2003 Northlands School of Creative Glass (Lybster, Scotland) glass kilnforming – overriding the hurdles. Jessica Laughlin / Ted Sawyer
2002 Centro Studio Vetro, Venice, Glass Fusing / Rudi Gritch
2002 Tiffany Glass Kunst, Germany – Glass Fusing / Detlef Tanz
2001 Corning Museum of Glass, Corning, N.Y.USA, Glass Casting (with Henry Halem)
2001 Bezalel – Academy of Art, Jerusalem, Israel – Advanced studies in Glass Design
1992 Carriage House Paper, Boston, USA Papermaking in depth
1990 Deer Isle, Maine, USA – Papermaking
1988 M.A in Art California State University, Northridge. Specialization: Printmaking, Glass Design
1967 The Hebrew University of Jerusalem, Israel, Certified Librarian
1965 B.A. The Hebrew University of Jerusalem, Israel, English literature, Hebrew Literarue





---
Designed and Powered by Shenhav Studio Multimedia © All rights reserved - Haviva zemach